WHITE HEAT
Accolades, album jacket, credits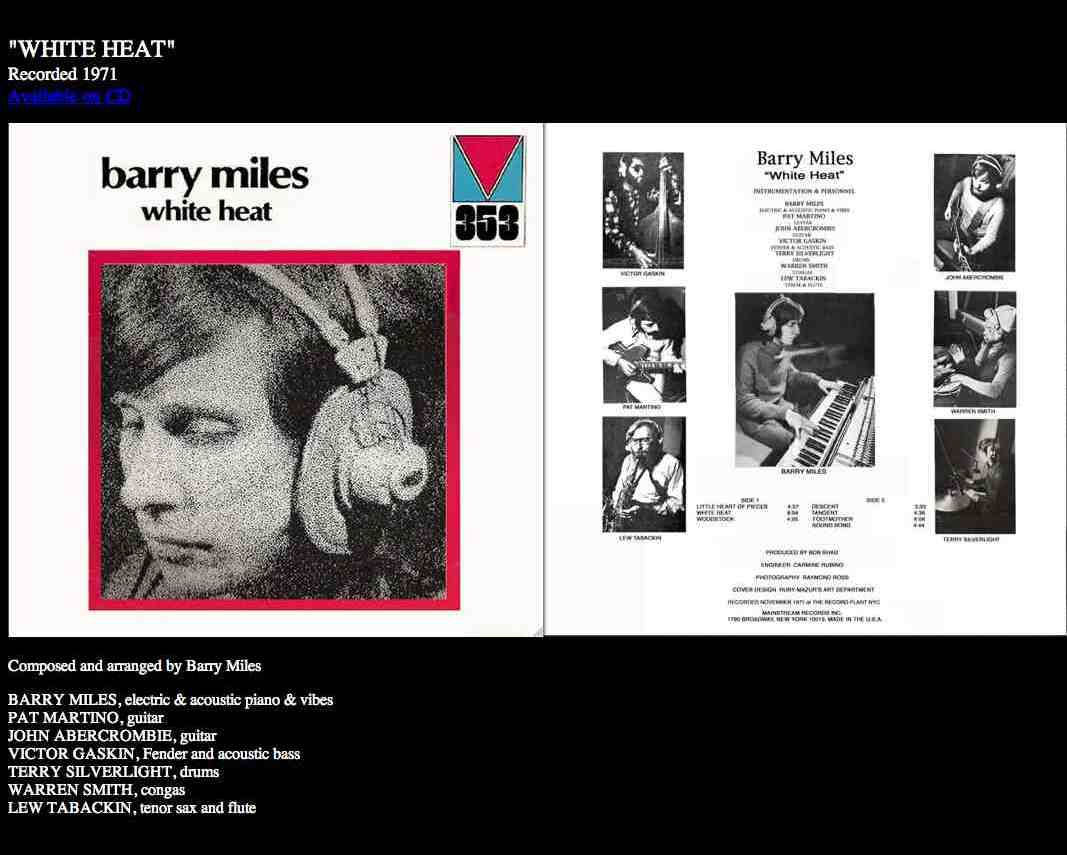 - PAT METHENY
That record White Heat was such a mind blower. I remember when it first came out turning everyone I knew onto it around Kansas City. And then when I found out how young you were, that totally blew my mind and inspired me. About a year after it came out, Lew Tabackin came to KC to play with Doc Severinsen and I was playing in the band opposite them and I remember taking that side up to Lew for him to sign and he told me all about the session and stuff which was really cool.





- AL Di MEOLA
Terry Silverlight was playing at the level of Tony Williams at the age of 14 years old. He was an absolute prodigy who I had the pleasure of playing with in Barry Miles's group back in 1973.
More words from Al Di Meola





- PAT MARTINO
My first meeting with Terry Silverlight took place in the early '70's with his brother Barry Miles. The recording that I was invited to participate in was called White Heat. Terry was in his early teens, and no less than a child prodigy. Believe me, at that time I was in some ways spoiled through active sessions with drummers like Charlie Persip, Billy Hart, Joe Dukes, Billy Higgins, and others. Immediately, Terry Silverlight floored me, and he still does.





- JOHN ABERCROMBIE
Terry Silverlight and Barry Miles are two of the original pioneers of jazz fusion, and it was my great privilege to play and record with them during that exciting time.





- PAUL WERTICO (Interview in MODERN DRUMMER MAGAZINE)
Terry Silverlight began his career at the tender age of fourteen, in a band called Barry Miles and Silverlight. The group, which also launched the careers of jazz greats Al DiMeola, Pat Martino, Lew Tabackin, and John Abercrombie, was one of the first to explore fusion territory.





- REX REED
To pull off a significant change in music, one must first be naturally gifted. BARRY MILES is. One must be well trained. He is, and finally, one must have a personal discipline so severe that the shape of things to come is never corrupted by the creator's vanity or impulse to show off. This BARRY MILES has, I think, at the level of genius.





- BILL MILKOWSKI
Drummer Terry Silverlight was playing fusion before the term even existed.





- DOWNBEAT MAGAZINE
Terry Silverlight gained notoriety while recording with his keyboardist brother, Barry Miles, back in the '70s.





- JAZZTIMES MAGAZINE
The versatile studio session drummer, Terry Silverlight, is a pioneer from fusion's heyday.





- MIX MAGAZINE
Terry Silverlight began his recording career at age 14 as a session drummer for his brother, jazz-fusion keyboardist Barry Miles.





- DRUM! MAGAZINE
At the very dawn of the fusion era there was a band led by Barry Miles with an amazing 14-year old prodigy on drums. That kid was Terry Silverlight, Barry's younger brother.