Lew Soloff
February 20, 1944 - March 8, 2015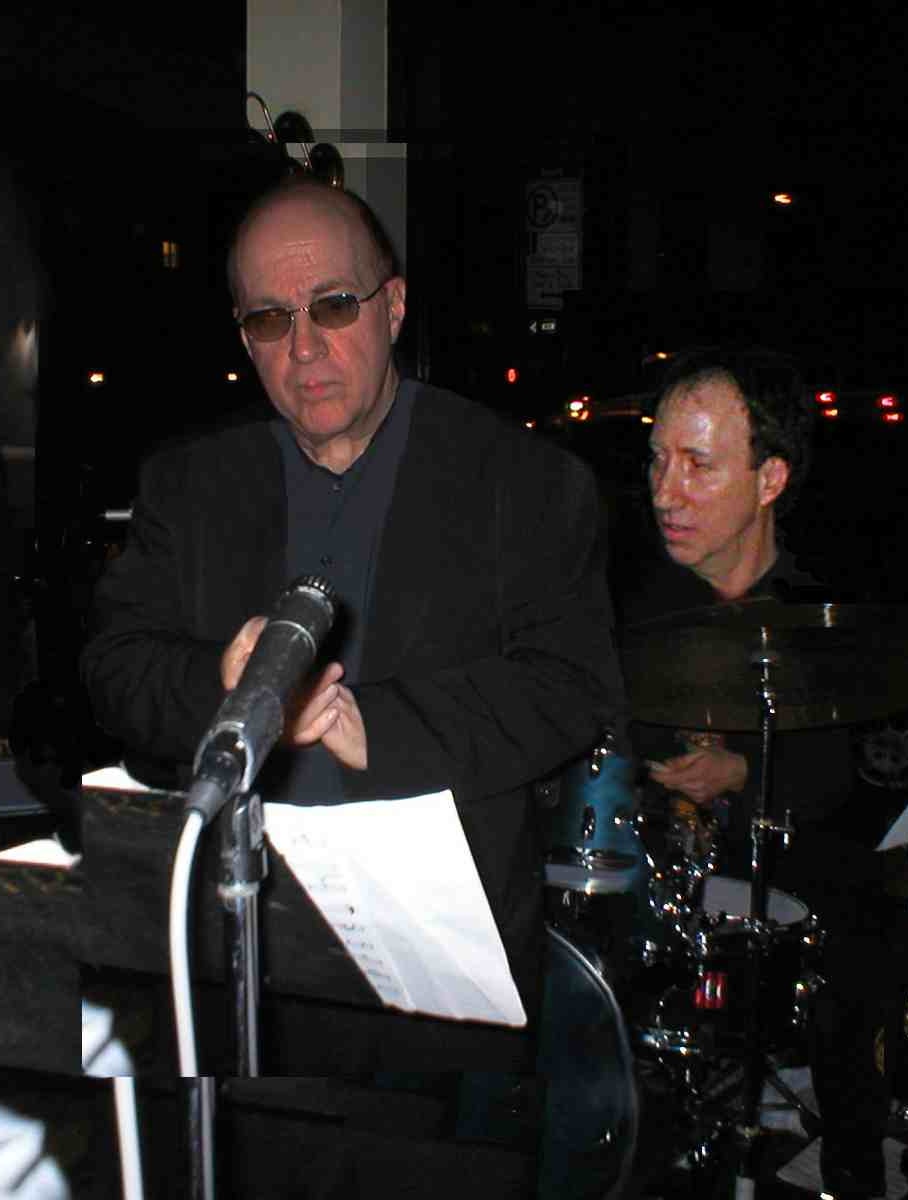 Lew and Terry in Manhattan with The Terry Silverlight Band


Terry Silverlight Band with Lew
Featuring Lew on Terry Silverlight's song "Yo"
Manhattan Jazz Orchestra with Lew & Terry
Fundraiser Performance
Miles Davis Sketches Of Spain
John Simon album
Native New Yorker album
Words from John Tropea for Lew





I'd like to share some musical and fun moments I had with Lew Soloff over the years. Each encounter holds significance and made an impression. He was a kind, generous, spirited, humorous man possessing a unique combination of great musical ability and awareness, along with a child-like and carefree innocence. As with many people, he touched me in a magical and human way.





FIRST JAZZ RECORDING LEW PLAYED ON
In 1965 at age eight, I met Lew when he began periodically performing with my brother Barry Miles's band. Around 2005, while Lew and I were on tour in Japan performing and recording with arranger David Matthews's Manhattan Jazz Orchestra (MJO), Lew said to me, "Barry's 'Syncretic' album is the first jazz recording I ever played on in 1966".

Barry Miles Presents His New Syncretic Compositions

In the late 1950's and 1960's, when I was a child living with my parents, I remember musicians frequently visited our house to rehearse with Barry who was also very young and living home at the time. Several of these musicians were beginning their careers and Lew was one of them. Others were vocalist Joe Carroll (recorded with Dizzy Gillespie), Woody Shaw, Jimmy Owens, Richard Davis, Ron Carter, Harry Leahey, John Coates Jr. and Eddie Gomez. Chick Corea and Herbie Hancock were also there for a session or two. Later in the early and mid 70's, among other musicians who passed through the band were myself, Al DiMeola, Pat Martino, Eric Kloss, John Abercrombie, Lew Tabackin and Vic Juris.

In 1966, when Barry was a freshman at Princeton University, he performed on piano a concert there showcasing compositions he had been developing. Personnel for this performance were Lew Soloff on trumpet, Walter Booker on bass, Robin Kenyatta on alto sax and Don Perullo on drums. It was recorded live and released as an album entitled 'Barry Miles Presents His New Syncretic Compositions'. 'Syncretic' was Barry's own word to describe the concept of combining various musical styles and influences together with jazz. This is perhaps the first 'fusion' album, or one of the first, before the genre was coined with that name.
POP CULTURE
Though I might have taken for granted Lew was just another musician periodically visiting our household, that changed when Blood, Sweat & Tears's 'Spinning Wheel' became an international hit with Lew featured as a band member/soloist and he became a part of pop culture appearing on the radio alongside The Beatles.
MUSICAL MOMENTS
It was a privilege to know Lew when I was a child. As an adult, it was a total honor to have him play on three of my solo artist albums Wild!, Diamond In The Riff and Live!, plus several of my Terry Silverlight Band live performances in Manhattan. Favorite moments include Lew's solo on 'Yo' from the 'Wild!' album and his solos on 'Yo' and 'Wild!' from the 'Live!' album. Lew's well-known ability to build a solo from a simmer to a boil with the utmost musicality, lyricism and spirit are displayed in these examples.

Before Lew played with my Terry Silverlight Band for an entire gig, there was a night I was performing with the group at a Manhattan club featuring, as always, an all-star line up. I saw Lew sitting in the back and thought it would be great if he could come up and play a number. The concept of my live performances has always been to showcase my new compositions. I wasn't looking for Lew to come up and play a blues or standard. I wanted to feature him on something original. Given no rehearsal, I wasn't sure how to approach getting him to play what I had in mind. I went up to Will Lee, the bassist that night and honored to say the bassist on many of my gigs and recordings, asking if he thought Lew would be the right fit for my idea. Will's response was, "Lew can play anything". So, I went back to where Lew was sitting, said hello and asked if he'd sit in. He had his trumpet with him so I thought I had a chance. But, he said, "Oh no, not tonight. I just want to listen". I said, "Come on, Lew. Let's do it. It's going to be great!". He said, "No, no, I couldn't". I said, "Yes, yes you can". He said, "OK, what are we going to play?" Since I had no chart prepared, over the packed-to-the-rafters noise in the club I proceeded to sing the part I envisioned. I was so flustered between the distracting noise, the limited time I had to teach him the part before needing to go back on stage, and the general awe I felt standing in front of one of my heroes, that I proceeded to sing to him the most out of tune, nonsensical notes one could possibly imagine. Most musicians would have looked at me and said, "Forget it. I have no idea what you want". Lew instead let out a big, hearty laugh then quietly played a few notes on his trumpet to see if that's what I had in mind. I couldn't believe he was able to decipher anything from what I presented to him, let alone come up on stage to play my song better than I could ever have imagined.
One day I got a call from arranger David Matthews asking if I'd like to play with his big band for a few hours one afternoon. I accepted, as I had been a fan of his for a long time. After playing for an hour or so, I asked one of the musicians, "What is this a rehearsal for?" He replied, "This is not a rehearsal. You just recorded three tracks for Dave's next Manhattan Jazz Orchestra (MJO album". For years, I wondered who recommended me for that position. Recently, the band's producer Shigeyuki Kawashima explained that it was Lew. Things weren't working well with the drummer who was with them at the time and they were looking for someone more accustomed not only to straight-ahead jazz, but also rock/pop who could handle the strength, endurance, and energy level this band required. As Lew later told me, he thought a special person/drummer/musician would need to fulfill these requirements. I'm proud to say I'm the first name that came to his mind.
HUMOROUS MOMENTS
I was about to go on stage for the opening set of my four night stint as band leader of The Terry Silverlight Band at the Manhattan night club, Birdland, featuring Will Lee, John Tropea, Clifford Carter, David Mann, Tabitha Fair and Lew. Five minutes prior to the downbeat, Lew came up to me and said, 'I'll be back in four minutes. I have to go next door to CVS and buy a pair of glasses. I lost mine and in order to read your charts, I need them". I said, "We hit in five minutes, this makes me nervous". Lew said, "I understand. Don't worry. I will be back in four minutes ready to play. Trust me". As promised, Lew was back in four minutes on stage ready to play when the band was announced.

On all of the Manhattan Jazz Orchestra concert tours in Japan, it was customary during the band's encore 'Sing, Sing, Sing' for Lew to rise from his chair in the trumpet section and "walk the aisles of the auditorium" playing his trumpet entertaining the fans while the rest of us remained on stage vamping. One night, he got adventurous and made his way to the balcony, engaging the fans on that level. Instead of returning down the same path he took going up, he decided to go out one of the exit doors. Time went by, but there was no sign of Lew so he could return to the stage for the finale. Finally he appeared, as the audience rose to their feet in glorious applause. Turns out, Lew got lost in the lobby and couldn't find his way back.

On another tour in Japan, I was in the midst of working on my 'Diamond In The Riff' album. For my song, 'Nothing Like Today', I wanted to add a horn section consisting of tour band members Larry Farrell on trombone, Bob Malach on tenor sax and Lew on trumpet. Instead of finding a space for them to record together simultaneously, I thought I'd instead invite each individually into my hotel room to overdub their parts separately. I was prepared with a portable recording rig. Though the room was small, it still needed some dampening to improve the sound. I proceeded to tape my underwear, shirts and socks to the walls and ceiling to achieve the proper tone. During Lew's session, things were going smoothly and without much conversation. Suddenly, he stopped playing, looked around the room at my artwork, and busted up into the most hysterical laugh. He then continued to play never uttering a word. I love the ending on that song featuring Lew's cadenza. It was his idea to finish the song that way.
Thank you, Lew.