Morris "Arnie" Lang
February 2, 1932 - July 5, 2021

Percussionist/Associate Timpanist to Saul Goodman for 40 years in the New York Philharmonic, head of percussion at Brooklyn College for 20+ years where he created an international exchange program with Richard O'Donnell and The Royal Irish Academy of Music, professor at Manhattan School and Lehman College, author of 10 books and pieces and one solo video, recorded much of the solo literature for percussion over the years including the premiere recording of Elliot Carter's "Eight Pieces for Timpani" along with works by Chavez, Varese, Stravinsky, and ran Lang Percussion producing world-class drums used by artists and orchestras all over the world.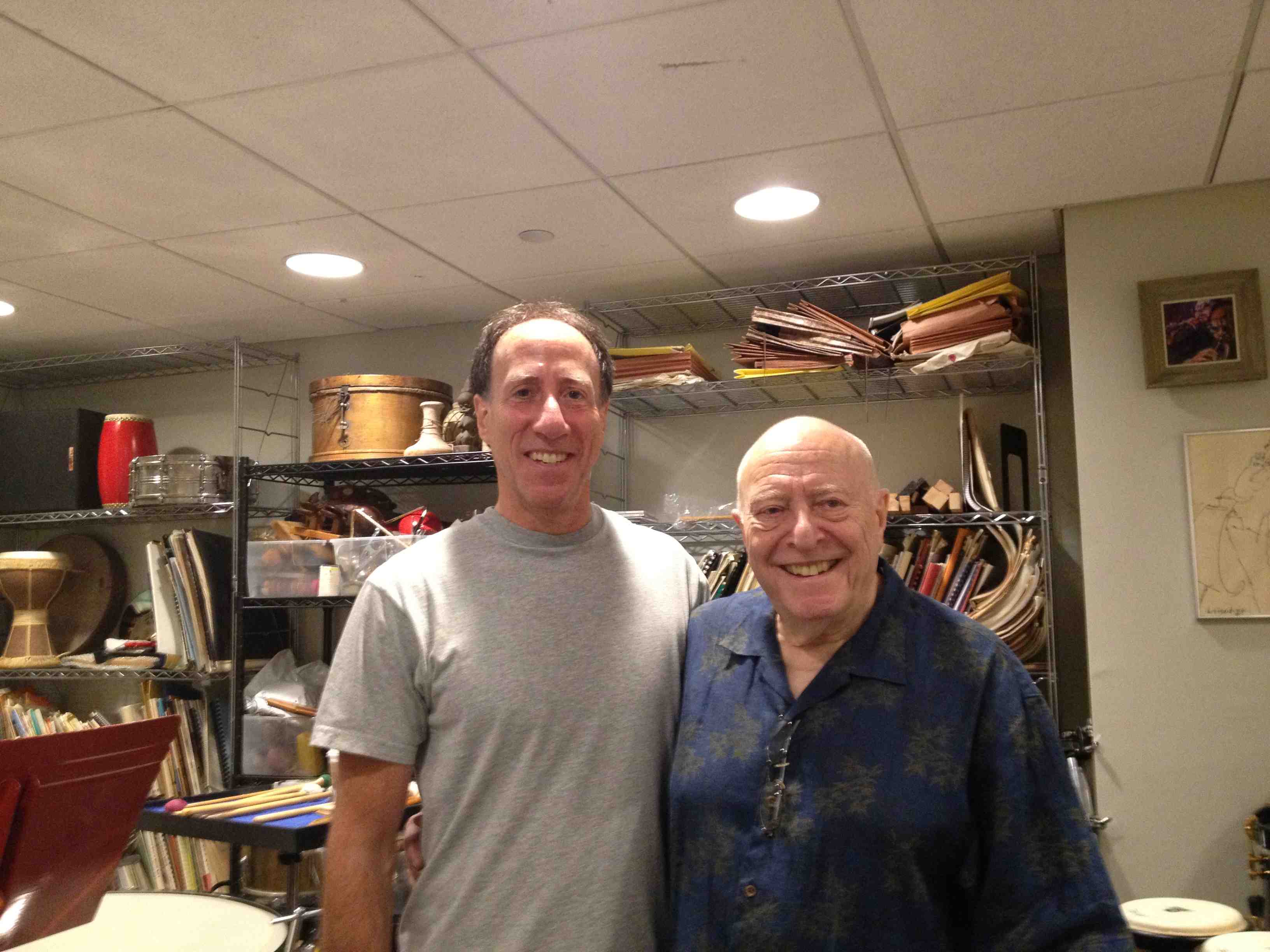 Terry Silverlight and Morris "Arnie" Lang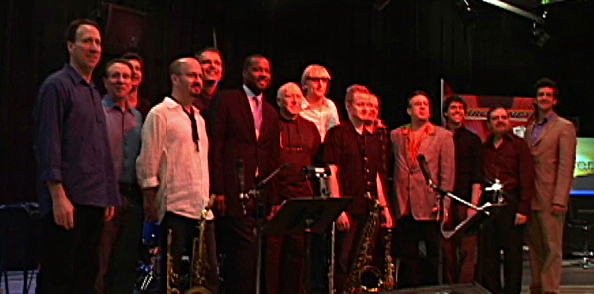 (Photo from Terry Silverlight Band recording at Bronxnet TV)
Terry Silverlight, Barry Miles, Danny Gottlieb, Aaron Heick, Allan Molnar, Daren Jaime, Morris "Arnie" Lang, Will Lee, David Mann, Gordon Gottlieb, Bobby Sanabria, Trey Files, Victor Rendon, Michael Max Knobbe

A NEW CONCEPTION
Drum/Music instruction book by Terry Silverlight and Morris "Arnie" Lang. 2021

DUETS
Terry Silverlight solo artist album featuring Morris "Arnie" Lang

THE FEATURED DRUMMER
Terry Silverlight drum instruction book with endorsement quote from Morris "Arnie" Lang

BROOKLYN COLLEGE DAY OF PERCUSSION
Presented by Morris "Arnie" Lang

Morris "Arnie" Lang Newsletter including Terry Silverlight

PRACTICING MUSIC: HOW THE PROFESSIONALS DO IT
Book of articles by Terry Silverlight, Sonny Rollins, Peter Erskine, Brian Willson, Morris "Arnie" Lang, Gordon Gottlieb, among others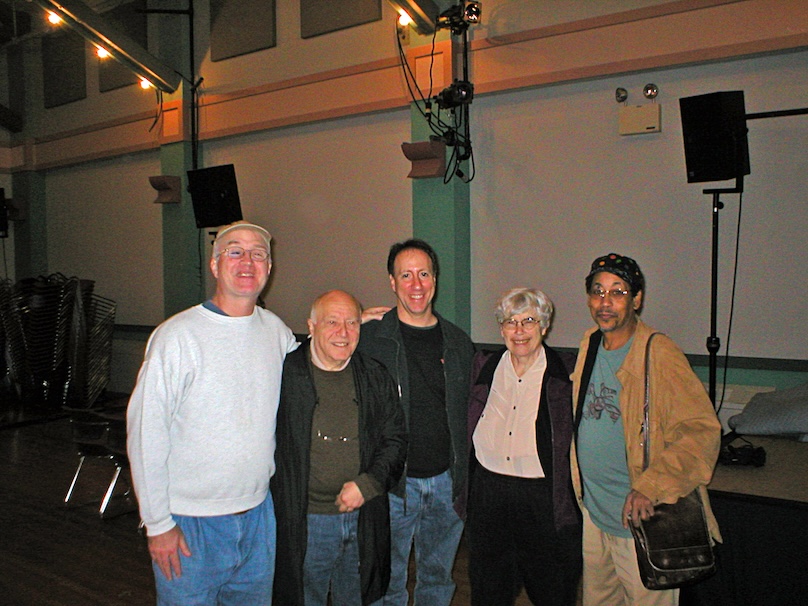 Terry Silverlight was part of an all-star percussion ensemble performing PAULINE OLIVEROS's composition "Wow & Flutter" at Rensselaer Polytechnic Institute's RPI Playhouse
Brian Willson, Morris "Arnie" Lang, Terry Silverlight, Pauline Oliveros, Warren Smith

WORDS FROM TERRY SILVERLIGHT

Arnie made a major impression on me in 1976, when I was nineteen years old on a leave of absence from attending Princeton University. Prior to that point, I had been playing drums in my brother Barry Miles's group and on several of his recordings, the first recorded in 1971 when I was fourteen years old which was one of the first "fusion" projects with me as one of the first drummers helping create the foundation for those who have continued developing that style of drumming. As there were few artists at the dawn of the era creating music like that, there were few drummers playing it. I was basically on my own to figure out what and how to play it, so my drumming approach was pure 14 year-old adrenaline, creative talent, instinct, desire to achieve, and self-taught technique. By the time I was nineteen, I decided to make drumming and music a lifetime career and never returned to Princeton. One of the first things I did was realize I needed to backtrack and work on my technique, so I could execute the complex playing I was doing more fluently without unnecessary physical effort. I don't recall who recommended Arnie, but I had the good fortune of him offering to give me a lesson. When I showed up, he said "Terry Silverlight! I've been following your playing and you're amazing. I don't understand why you're here". I played him a few basic single and double strokes and immediately he knew what I needed. He opened the gate for me over the course of only a dozen or so lessons, showed me how to loosen up the right way without sacrificing power and endurance.

What Arnie taught me conceptually made it possible for me to set aside technical struggles and concentrate on the creation of music itself. I think about it every time I play. In addition, I'm honored to have become friends with Arnie over the years and to get to know how amazing a person he was. He was known for always being up to date with musical happenings not only in classical music, but also in all genres (he knew of me!). He was always working performing, recording, teaching, writing, or drum manufacturing until his last day. I've heard people say as he aged "He's the youngest guy I know". Without mentioning names, his musical associations ran wide and deep in many corners of the music industry with the best musicians in the world idolizing him and acknowledging the influence he's had on them, the same as I have. And in my professional career, I had the honor of co-writing with him "A New Conception" published by Bachovich, he played percussion with me on my "Duets" album, he wrote a beautiful quote for my book "The Featured Drummer", and we performed live together on occasion.

Arnie will be dearly missed, but the musical contributions he made in many ways are part of history and will be passed along to those who follow for a long time.

--Terry Silverlight